Todays Asshole of the Day is Oyindamola Amuka-Pemu, the crazy ass Nigerian woman who chopped off a kids head.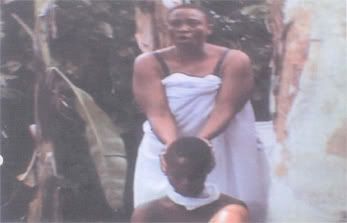 Other Assholes of the Day are right here.
Yo, Nigerians are crazy-as-shit! Oyindamola Amuka-Pemu, sacrificed an 11 year old boy for the health of her own sick son.
The avalanche of law suits already lined against the management and reporters of the Vanguard Newspaper is not stopping human rights activist and lawyer, Chief Giwa Amu. Chief Amu has written the Inspector-General of Police, Mr. Mike Okiro insisting that Mrs. Oyindamola Amuka-Pemu did commit murder and must be prosecuted.

This is coming as fresh pictures have now surfaced showing the allegedly murdered boy's severed head and headless body. The pictures are already being authenticated by forensic and photographic experts contacted by Pointblanknews.com at the John Jay's College of Criminal Justice, City University of New York, CUNY.

Several other Forensic experts have also expressed interest in assisting the Court in working on the case. However, Chief Amu said that his recent arraignment for wrongful information to the Nigeria Police was a ploy orchestrated to scare him from providing legal representation to Mr. Steve Ugwu-Chinua who allegedly caught Mrs. Oyindamola Amuka-Pemu and her cohort in the dastardly crime of human sacrifice.

Ahead of the May 27, 2009, resumed hearing of the prosecution of his client, Mr. Ugwu-Chinua, at an Ikeja Magistrate Court, Chief Amu is asking the Inspector-General to halt the charade in which the accused was being made government witness. In the letter dated April 30, 2009, Chief Amu said that Mrs. Amuka-Pemu did connive with her husband to sacrifice "an eleven year-old child" for rituals in order to secure healing for their bedridden child. The matter has also been filed with the Police Complaint Commission in Abuja.

There are strong indications that at least two lawmakers may have their political careers on the line on account of their refusal to hold public hearings on the vexed issue of Police conniving with the Amuka's to have justice miscarried.

Senator Gbenga Ogunniya of Ondo Central Senatorial District suddenly finds himself in the eye of the storm and he is now labeled as loving money than Nigerian children and the laws of the land. He is Chairman of Police affairs Committee of the senate in Nigeria.
Turd Tags:
turd ferguson, nigerian, woman, nigeria, africa, cut off head, crazy, picture